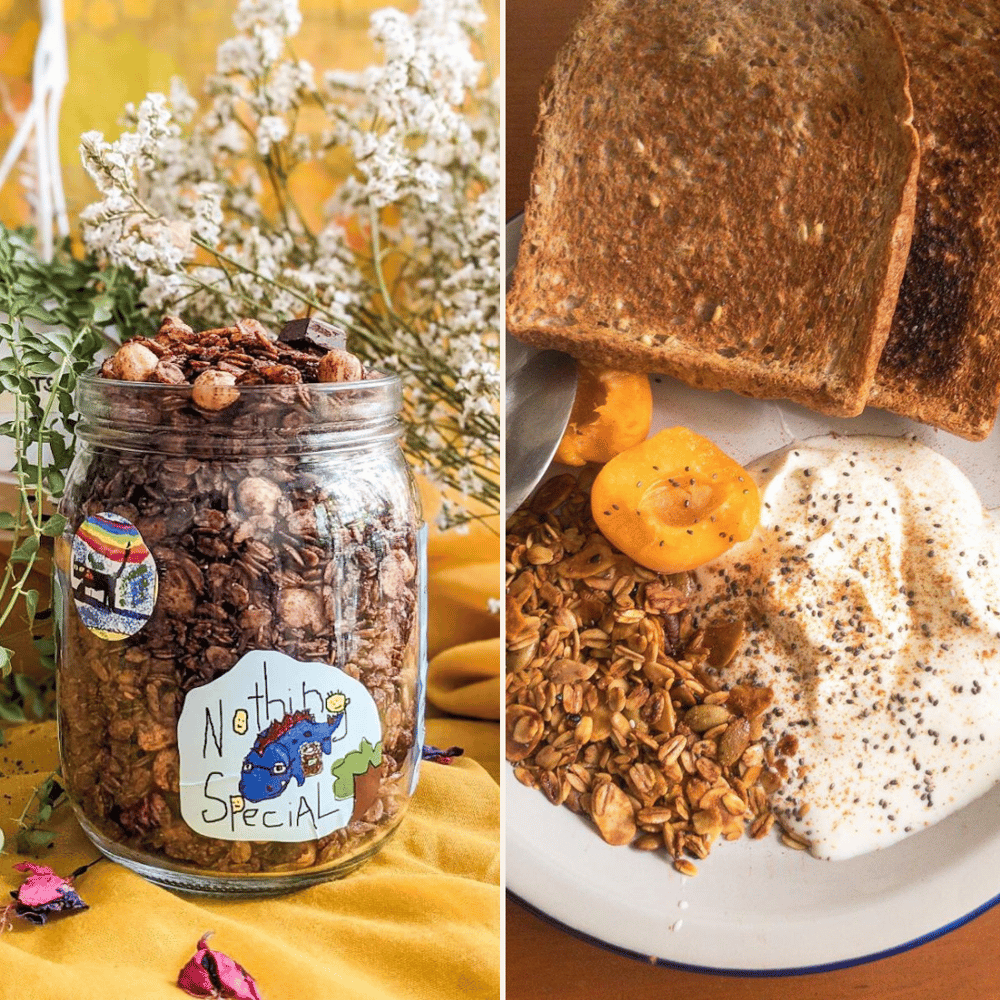 YEA I KNOW D BEHIND BREAD IS CHAO DA... IGNORE
FOR THE WEEK OF JANUY 2022,
HERE ARE THE OPTIONS YOU HAVE:
- CLASSIC/THEE DESIGNATOR + DELIVERY= $32
- CHOCLIT + DELIVERY = $32
- CLASSIC/THEE DESIGNATOR + CHOCLIT + DELIVERY = $53
1. *CLASSIC GRANOLA* =
- seeds: sunflower seeds, pumpkin seeds, black sesame seeds, flax seeds, chia seeds
- nuts: pecans, almond flakes
-liquids: canola oil, gula melaka syrup MADE iN HOUSE OK..
FOR THE REST OF NOTHINGSPECIAL.SG'S CLOSING, WE WILL BE DOING THEE DESIGNATOR.
2. * THEE DESIGNATOR*
BASE: CLASSIC GRANOLA
CHOOSE YOUR TOPPINGS (LIMITED TO 2):
- Dried Blueberries
- Puffed Rice (like Rice Krispies, but nicer)
- Freeze-dried Strawberry
- Freeze-dried figs
- Chopped Dark Chocolate
- Mini Marshmallows
WHEN CHECKING OUT, LET ME KNOW IN THE COMMENTS WHAT YOU WOULD LIKE TO GET ;-) ONLY 2 INGREDIENTS.
3. *CHOCLIT GRANOLA* =
Ingredients: oats, tahini, cocoa powder, gula melaka syrup, canola oil, turkish hazelnuts, almond flakes, flax seeds, cocoa nibs, *chocolate crumble, **vegan chocolate bits
*chocolate crumble: cocoa powder, Mcvites digestives, canola oil, gula melaka syrup
** vegan chocolate: Endangered Species Chocolate from iHerb
MORE ON CHOCLIT HERE:
More info here: